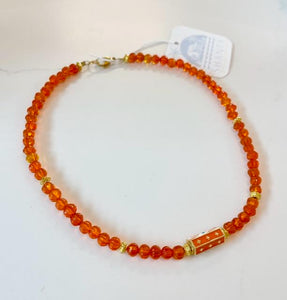 Valencia - Orange Enamel Evil Eye Amulet with carved carnelian beads and gold tone accents. The Orange Evil Eye is a symbol that is believed to bring positive energy and help ignite creativity within the wearer. It is thought to bring youthfulness, energy, and happiness into one's life and to open the mind, enabling the wearer to solve old problems with new solutions, methods, or approaches.
Size: 7mm




Material: Carved melon Carnelian beads

gold tone accents and clasp.

DO NOT WEAR IN THE WATER!  ENAMEL CAN CHIP.